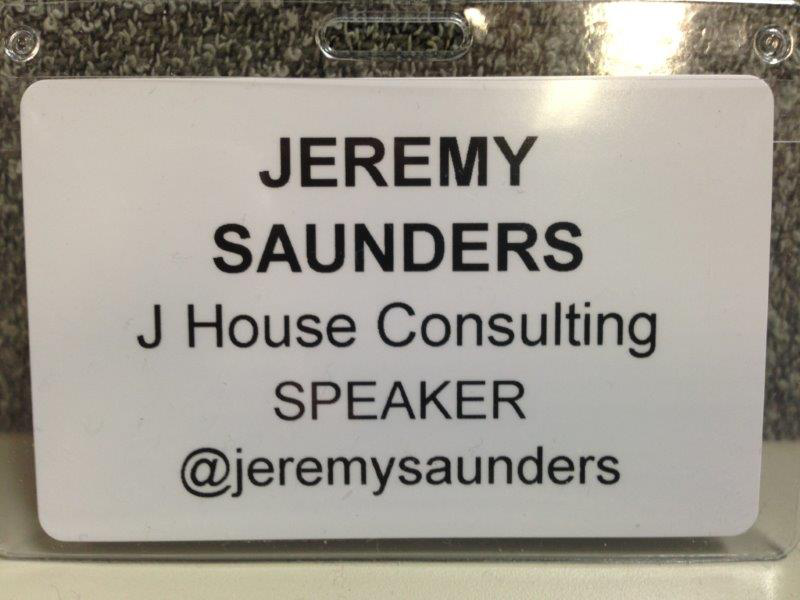 It has always been my career goal to speak at one of the big international and highly recognised IT conferences. My initial focus was to speak at a Citrix Synergy conference. I planted the seed a few years ago for Synergy 2010, but the submission lacked the coolness, the wow factor, some good takeaways, and possibly even professionalism to be taken seriously.
It all started back in 2005 when I attended Citrix iForum in Sydney. I caught up with a long-time Internet friend, Warren Simondson from Ctl-Alt-Del IT Consultancy in Queensland. Way back then Warren and I made a deal that one day we would do a session together at one of these conferences.
We had spoken a few times during 2012, and in November I received an e-mail from him reminding me about the fast approaching submission deadline for Synergy 2013. That's all I needed to kick me into gear as it was time for me to step up and take action. Warren was already involved in other sessions, and encouraged me to be the lead presenter and put together the submission. I tossed around a couple of subjects to present on, and then I just had a flash of inspiration. AppDNA! I love the challenges of Application Compatibility, and could easily create a really cool session around this technology. It's also a subject where I know I can differentiate myself.
Knowing how many speaker applications Citrix receive, and how many people would be vying for the limited places, I was not all that hopeful of being accepted. I guess I underestimated myself, as a couple of months later I received an e-mail that said "Congratulations! We are pleased to accept your presentation submission and this is to formally confirm you as a Breakout Session Speaker at Citrix Synergy 2013 in Los Angeles to be held Wednesday, May 22 – Friday, May 24 at the Anaheim Convention Center."
Citrix created a blog "Announcing…the guest presenters at Synergy LA". I felt that I was amongst the who's who in IT.
Wow…this was one of the coolest things that has ever happened to me in my career. Things just got real and I felt considerably proud of myself. The feedback I had was that my submission was fun and playful. My writing style and speaking confidence has grown over the last few years with the comedy, improv theatre and storytelling training and performance experience I have gained. I was able to draw on that to make it fun and playful.
Citrix published our session to the Synergy web site.
I worked on my content and demo over the next three and a half months, with of course feedback and input from Warren, and an AppDNA Subject Matter Expert or two from Citrix. A nice touch this year was that Citrix opened up their blog site for all Speakers. So I wrote a blog that was published to the Citrix Blogs site. I titled mine "How to make yourself look cool with AppDNA?", which included a reference to MacGyver. Feedback on my blog was that it was also fun and playful.
My Synergy session was on the last day. In fact, it was in the first slot of presentations for the day. Unfortunately, not only was the big party the night before, but it was also a long weekend in the US. So numbers were down, as people were either still in bed, travelling home to be with their family, or off to Disneyland with family. We had this big 600 seat ballroom to fill, which I was all excited about at the beginning of the week. But the reality was that there were less that 100 people who attended the session. None the less, I enjoyed myself and felt that I presented well.
Our timing had to be perfect to get through the slides and demo. We had 45 minutes, which included Q & A. Of course we wanted to pack in way too much content, so had to edit and re-edit numerous times. When you know you are going to be pushed for time the last thing you want it to be watching a timer counting down, as it becomes a distraction. A big lesson learnt was not creating too much content, trying to fit everything in and be a perfectionist.
When you perform stand-up comedy or do storytelling to a full house where the audience is around 100 to 120, it is very personal. You are the sole person on stage and your audience are focused on you. They want you to succeed and not fail. Knowing that, you tend to put a lot of pressure on yourself. I've been very lucky so far that my material and delivery has always been good. When you become the centre of attention on stage and you know that the audience is enjoying your "set", you feel like you have the audience in the palm of your hands. It's an incredibly empowering feeling. That's not an arrogant thing to say. It's a good thing because it helps you relax, gives you more energy, and lifts you into another "zone"; allowing you to have the confidence to be playful with the audience. Because I had too much going through my head with this presentation, I didn't allow myself to relax enough to achieve this feeling. Also being in a room that was far too big for the audience that attended, didn't help. But having said that, I am all the better for the experience and am extremely grateful to Citrix for giving me this wonderful opportunity.
If you are community focused, and enjoy sharing and giving back knowledge for free, I highly recommend having a go at presenting at an IT conference.