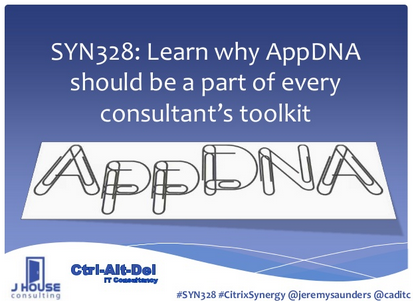 Here's my presentation that I've uploaded to SlideShare from my Citrix Synergy 2013 session on why AppDNA should be a part of every consultant's toolkit.
Unfortunately SlideShare currently doesn't support animations, so some of the slides are not well presented when viewed in this manner. I'll work to separate out the animations and make this as readable as possible.
I am continually improving the content within this slide deck. Please feel free to contact me for the latest version.

If you view the presentation from SlideShare, you'll also get to see the notes.
Enjoy!