The Excitement:
Last June Citrix included a cut down licensed version of AppDNA as part of the XenDesktop 7 Platinum license. As excited as everyone was at the time, this license was so restrictive that you could only analyse applications using the SBC module. Back then I wrote an article titled "AppDNA is now included with XenDesktop 7 Platinum, or is it just a tease?", which pointed out the limitations of this release. Clearly Citrix took my feedback seriously, as now they have included a full unrestricted license with XenApp or XenDesktop 7.5 Platinum. It is totally unlimited across all modules! How cool is that?
In the announcement they say that "The inclusion of all the AppDNA capabilities in Platinum editions helps IT address a variety of migration issues, including how to virtualize applications ahead of Microsoft Windows XP and Windows Server 2003 end-of-life milestones." It's a funny marketing statement given that Windows XP will reach it's end-of-life milestone 13 days after these new capabilities are released into the Platinum editions!
The Disappointment:
To make matters worse Citrix, in their infinite wisdom, have also decided to drop the standalone versions altogether. So as of 28th April you will no longer be able to purchase the Standard or Enterprise editions. This is so uncool! In fact the EOM (End Of Maintenance) for the version 7.1 and later standalone editions is 31st October 2015, and the EOL (End Of Life) is 31st October 2016. So there is no value in purchasing the product if its last sale date is a little more than a month away. RIP to the Standard and Enterprise editions.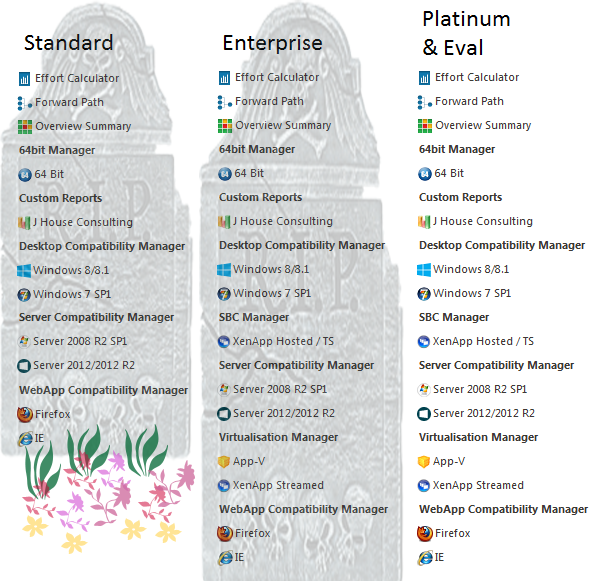 About the Platinum License and the EULA:
So what does this new Platinum license allow us to do? An example provided by Citrix is…
Q: My customer wants AppDNA, but doesn't know how many XenDesktop or XenApp Platinum licenses to purchase to ensure proper licensing?
A: The EULA restricts the customer to using AppDNA functionality for only the applications related to the XenDesktop or XenApp Platinum licenses. For example, if a 5,000 user organization purchased 1,000 XenDesktop Platinum licenses for their engineering and design center, only the applications that are used by the engineering and design organization are valid to analyze and prepare with AppDNA.
When they say "restricts the customer to using AppDNA functionality for only the applications related to the XenDesktop or XenApp Platinum licenses", what does this really mean? I do know that there is no technical enforcement of the EULA conditions, which leaves everything open to interpretation based around the EULA wording and example scenarios provided.
So if you're using the Flexcast Remote PC feature of XenDesktop Platinum, you are essentially bringing your non-XenDesktop purposed machines into your XenDesktop solution. Therefore you could argue that although these workstations are provisioned under your standard MOE, they are accessed using Flexcast via the XenDesktop solution and therefore covered by the EULA. So from the above example if you were to deploy the VDA to a machine or two from each department, would that cover the EULA requirements so that you can analyse ALL your apps with AppDNA?
Goodbye and RIP to the Standalone Editions:
What does it mean for me if they are dropping the standalone editions? Well as someone whose been using and recommending AppDNA for non-Citrix projects, as well as XenApp/XenDesktop Advanced and Enterprise edition upgrades and migrations, I am now forced to recommend competitive products like Dell ChangeBase or Flexera AdminStudio Application Compatibility Pack. Maybe Citrix has decided to write off that revenue stream and try to up sell everyone to Platinum. But that's not easy to do everywhere, especially if they are not existing XenApp and/or XenDesktop clients.
Citrix are great at acquiring 3rd party products and integrating them into their framework. This product though is a tool to assist IT Pros with upgrades and project delivery, taking a lot of the guess work and testing time out of the process. The tool itself is not part of the live product that End Users will see or touch. It goes far beyond the core XenApp and XenDesktop product sets, and is one of those tools that has a place in the wider IT landscape.
In my opinion retaining the Standard Edition, but perhaps including the Virtualisation Manager (App-V) module would be of great value, especially in the MOE (Managed Operating Environment) space. In fact you could even rename it to an MOE version. It makes it tough to recommend and market AppDNA when Citrix themselves don't see is as a value add to other projects outside of XenApp/XenDesktop Platinum Edition.
I understand that Citrix may look to provide a separate version of AppDNA specifically for partners, which could be used as part of a consulting gig. But this is challenging for Citrix to achieve due to the revenue recognition rules imposed by the US GAAP (Generally Accepted Accounting Principles) regulations, which don't allow the same product to be given to one set of customers, but charged for with a different set of customers. Therefore a Partner version must be different to the version given to Platinum customers. I'm not an expert in this field, but do believe it would add development and software life cycle management overheads. So is this really a path that will add value? The Partner version would work for me to a certain level, as I could then sell it as part of a service offering. But a large percentage of my customers would want to own a copy and have their staff managing the day-to-day analysis tasks, etc; especially when you assist them to setup a Packaging Factory and an Application Portfolio Management (APM) practice. My job for the larger clients often becomes a mentoring/teaching one. It worries me that I will need to use a competitive product for those projects. Otherwise when I leave site the customer is left with nothing.
Before Citrix acquired AppDNA non-Citrix projects were their main revenue stream. So why would Citrix want to cut that off?
Have they gone too far by closing the door on any non-Citrix and non-Platinum (Advanced and Enterprise) Edition Citrix customers that want to use (and need) a tool like AppDNA? Why does Citrix want to force them to use a competitive product, when Citrix already has the best tool in the shed for this task?
In my opinion Citrix will kill this awesome product if they're not careful.
So come on Citrix. Reverse this decision and throw the standalone editions another lifeline!