I was excited by the recent announcement during the Citrix Synergy 2013 keynote that an AppDNA license will be included with the upcoming release of XenDesktop 7 Platinum edition. Yes! Now one of my favourite tools, so needed in this space, gets to shine alongside the flagship products. This sparked so much excitement and conversation during the week of Synergy and thereafter.
There are, however, a couple of gotchas, that if not understood up front, will lead to disappointment. So let me explain.
In July 2012 Citrix simplified their AppDNA offering into two editions:
Standard – Designed for Windows Desktop Migrations, Windows Server Migrations, 64-bit testing and Web Application Testing.
Enterprise – Designed for Windows Desktop Migrations, Windows Server Migrations, 64-bit testing, Application Virtualisation, Server Based Computing, and Web Application Testing. Enterprise edition also includes Production Manager for automated application packaging.
Now that Citrix have added the XenDesktop Platinum license, what features does this give us? When you apply the XenDesktop Platinum license, it only unlocks the Server Based Computing module for an unlimited number of applications. This contains the XenApp Hosted/TS reports. This is awesome as it allows you to rapidly assess the compatibility of thousands of applications for XenApp Hosted or Terminal Services delivery. But, and it's a big butt, you cannot successfully analyse and assess applications for XenApp projects with this module alone. What do I mean by that? Let's say you're planning a migration from XenApp 4.5 on Windows 2003 32-bit. You're also going to need the Standard License to be able to test and report on both the Server OS and 64-bit compatibility. Furthermore, if you're also adding Application Virtualisation into the mix, you'll need the Enterprise license to test and report on App-V compatibility.
So when we talk about these "modules" and "reports", what are we referring to? I've put together the following screen shots to show you just how different the three editions are: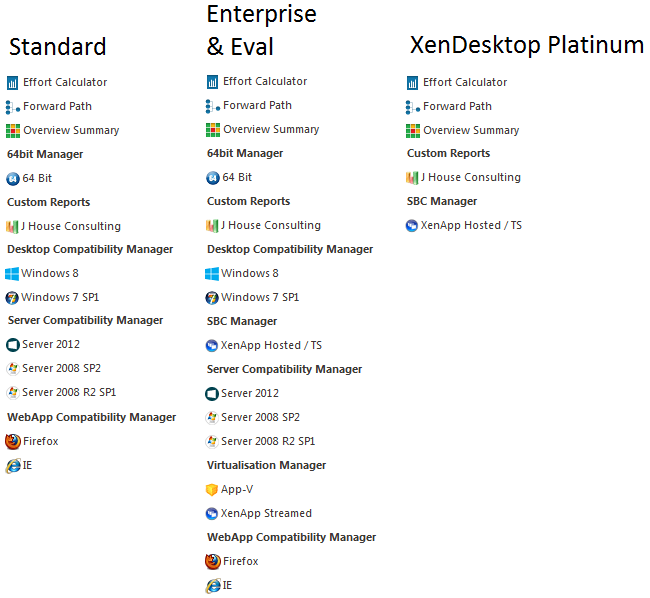 Remember that expanding each of these specific technology modules, including the custom reports, exposes five individual reports.
Estate View
Application Issues
Application Actions
Issue View
Action View
Also remember that the Estate View is a free report and starts with the Before and After charts of applications based on algorithms used for that technology such as the following screen shot: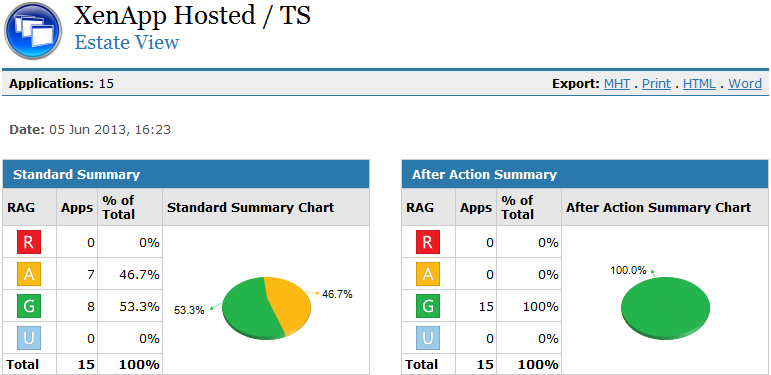 Herein lies the problem. This screen shot shows that the 15 applications I have analysed in my demo environment are good to go for migration, pending some minor actions. Yes, I'm excited. Let's migrate! Whoa…back up the truck Gus. Uno momento por favour. What about the Server 2012 module, or the 64-Bit module? How do I know if I'm good to go with those?
C'mon Citrix. At least give us the Estate Views for the other modules! Okay, no need to raise your voice. Here's the gotcha. If you install the product and first apply the Eval License, this will of course unlock all modules for 30 days. Whilst applying the XenDesktop Platinum license will only unlock the XenApp Hosted/TS module, it doesn't remove the others from the display. This is because their paid licences are additive. You can continue to drill down and access the Estate View reports for all other modules. So the trick is the order in which you apply the licenses. Whilst you won't get detailed reporting on other modules, at least you will get the high level Estate Views, which go a long way to help provide you with knowledge about how your application portfolio has been assessed against those technologies.
Now that I've explained that, here are the two other Estate Views with the same 15 applications that are required before I even consider migration.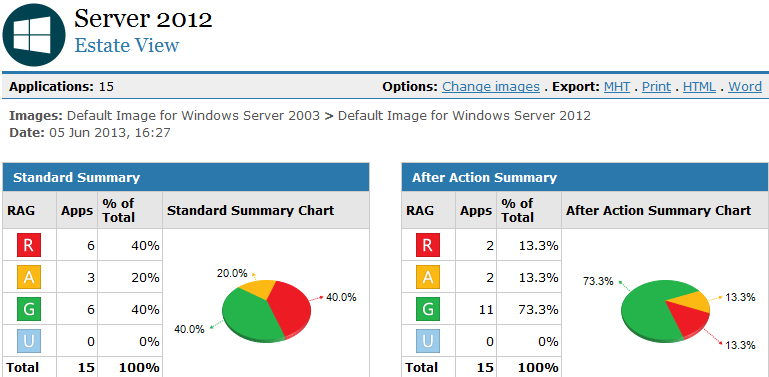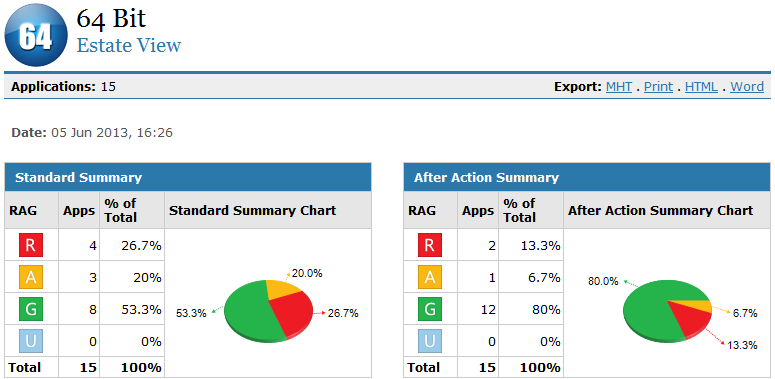 Hmmm, notice that even after remediation they both still contain Red and Amber applications. The Red ones are of major concern. You won't know what those applications are, but at least you now know that you cannot progress with your migration without further investigation, or you buy some Standard licenses.
So is Citrix just teasing us? There is no doubt that once you start using AppDNA and experience its value, you'll fall for it hook, line and sinker. It is wonderful software to help you drive your project and take control of your application portfolio. Having this cut down version will clearly drive demand for the full AppDNA Standard or Enterprise edition license.
Will this cut down version really help? In the example I've given above all it will do is provide you with a go/no-go decision point in the project.
I guess the initial thoughts around this is to seed the XenDesktop Platinum customer base with a portion of AppDNA to help customers migrate apps from physical to virtual XenApp environments. If you're doing just that, then you only need to worry about the XenApp Hosted/TS report, as it will contain the algorithms needed for virtualising XenApp. In fact Citrix are calling this XenDesktop 7 component "Hosted App P2V Analysis".
If Citrix gave it away for free, it removes the revenue stream which can devalue the software over time. My concern with a depleted revenue stream is how will this affect ongoing development? But on the other hand, we are talking about XenDesktop Platinum Edition here. So it's not a license that would be given away to everyone.
Here's a list of Q & As put together by Citrix:
Q: What is included in XD/XA Platinum?
A: The AppDNA inclusion in Platinum only includes the XenApp analysis allowing customers to rapidly assess compatibility of thousands of applications for XenApp Hosted or Terminal Services delivery. The Platinum version does not include Server/Desktop OS or App-V/XenApp Streamed analysis. They will need the full version.
Q: How will a platinum inclusion of AppDNA be activated? By pointing it to a Citrix license server with platinum licensing?
A: Yes. Note that the Platinum license server MUST be on another machine, so a fully qualified network name is required. Many people assume that AppDNA uses the same license server as XenDesktop or XenApp, which at this point in time is not true.
Q: Is there an upgrade path from Platinum to full AppDNA or is this accomplished by just buying a full price Standard/Enterprise license?
A: Just buy either a Standard or Enterprise license. The licenses are additive.
Q: If a Standard license is purchased and the customer has Platinum will they still have unlimited SBC testing? Leaving the App-V/XA streamed testing unused.
A: Yes, the licenses are additive. You can add any mixture of Platinum, Standard, or Enterprise licenses now. The only restriction is that you cannot add an EVAL license of any type (an unpaid license) once you have added any of the paid licenses. Platinum activation counts as a paid license.
Q: With Platinum will they still have access to the Estate View/Effort Calculator for all of the other modules? Like the trial version.
A: Effort Calculator – yes. Estate Views for other modules – NO. However, to expose the Estate Views for all other modules we are recommending to customers that they start with an EVAL license, then do the Platinum activation. That order is okay. The reverse is not. Once you have enabled the Platinum activation, you cannot add the EVAL license.
Updated 20th June 2013: Linking to a new Citrix blog from Tim Fallen-Bailey: XenDesktop 7: AppDNA and Platinum Activation